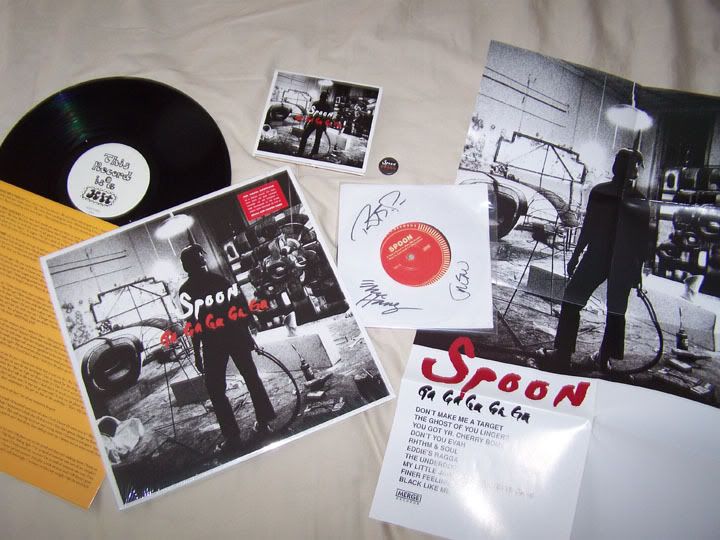 The luck of 7-7-07 has found me today, but I won't brag because the day isn't over yet.

A few months back Merge announced the pre-order promotion for the new Spoon album, Ga Ga Ga Ga Ga. The first 200 people to pre-order the album would get a limited edition 7" vinyl, autographed by the band. Of course I raced to the website to put in my pre-order, and after I got the order in, the site was still advertising the promotion. I kept my fingers crossed in hopes that I got mine in on time. I clicked over to Spoon's site, and the promotion had already been removed.

I figured that I probably didn't make the cut, but it really didn't matter. I got my order in for the album anyway, which I obviously planned on buying, so no loss if I didn't.

So here we are, 4 days before the release of Ga Ga Ga Ga Ga, and in the mail today was a package from Merge. I got excited about opening it up, just due to the fact that I have it before the actual release. I completely forgot about the promotion of the autographed 7". I opened the package and dug right into the CD. I was pretty excited about the bonus disc. Stumbled around the extras that i got with it, a poster and a button, and then i eyed up the 12" of the album. I wasn't until I picked it up that i found tucked underneath of it was the 7" bonus...AUTOGRAPHED BY THE BAND!!!!

So being a huge fan of the band, I am thrilled. Im a firm believer that an autograph really doesn't mean much unless you obtain it yourself. Its fun just to meet the band, get a picture and maybe an autograph to show off later. But with that said, I am always willing to snatch up a freebie like this.

I've taken a snapshot of the entire package. And in case you were wondering, Britt's autograph is on the back of the sleeve, so you cant see it in the photo.