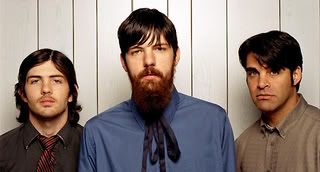 The new album from The Avett Brothers, "Emotionalism" is a heart-on-sleeve banjo loving sing along. The songs are easy to enjoy, catchy and touching. "Die, Die, Die" is the album opener, and right from the start of that song, you can tell that you are in for an enjoyable listen. The band sounds like a mixture of Johnny Cash and The Beatles and also a touch of Whiskeytown. Cash for the lyrics and song structure, and The Beatles for the hooks and harmonizing. Whiskeytown obviously for the twang, though The Avett Brothers are banjo heavy.

So take a listen. You can download the album from eMusic. And I dare you to try and listen to "The Ballad Of Love And Hate" without getting emotional. This song is such a reminder about how precious and forgiving women are, and how we take them for granted.

Also, if you happen to be a Delaware resident, or at least are in the vicinity, you may want to check out their show at the Grand Opera House in Wilmington on November 20th. Tickets are still on sale and are only $22. Im sure it will be a great show.